Portable Document Experiment - Rise Up, a Fractured Funk, 2020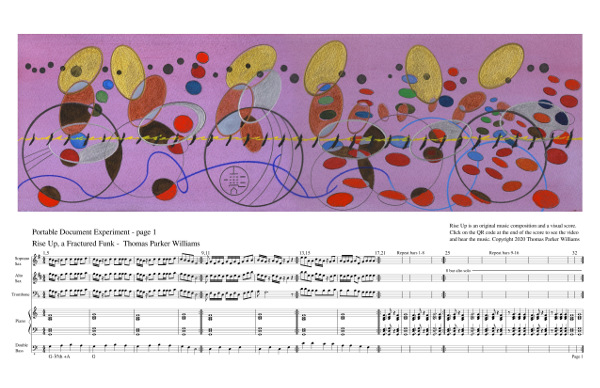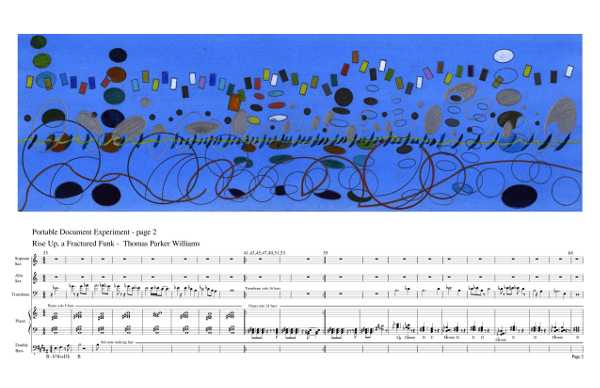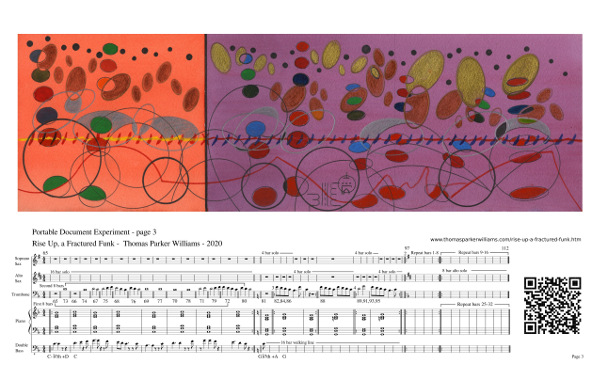 The Portable Document Experiment
Specifications free download
PDF file, 3 pages, print size - 11" x 17"
Rise Up, a Fractured Funk by Thomas Parker Williams is licensed under a Creative Commons Attribution-NonCommercial 4.0 International License.
Rise Up, a Fractured Funk is an original music composition with standard and visual scores.
Music, performance (all instruments) recording and art artwork Thomas Parker Williams
Rise Up, a Fractured Funk was originally written by me during the recording of an album by Toe-Knee and the 7th House of Funk in 2005 but never used. I recently found the music for the horn parts and decided to record it for this project.
I envisioned the arrangement of this piece to be like those found on classic Blue Note and Riverside records of the 50's and 60's but with a funk edge like the great horn players of the JB's, Fred, Maceo and Pee Wee.
I used soprano, alto saxophones and a keyboard voice for trombone, piano, keyboard bass, rhythm box and live percussion to emulate the sextet sound. I had fun with this one and hope I made a small tribute to some of my heroes.
The artwork, on paper, in watercolor, inks, colored pencil and enamel, was done as a visual expression of the music to complement the three page score for the piece.
The music may be heard by scanning the QR code on the printed PDF file or in the video above.