Portable Document Experiment - Music In Search of a Choreographer, 2022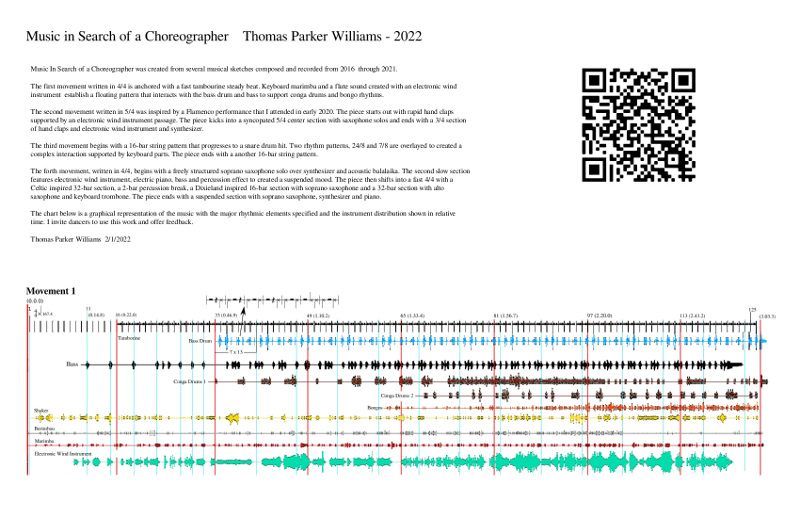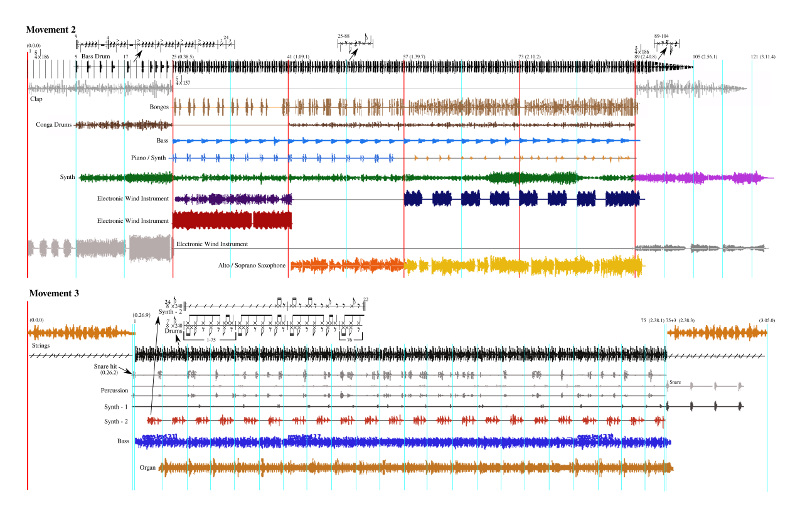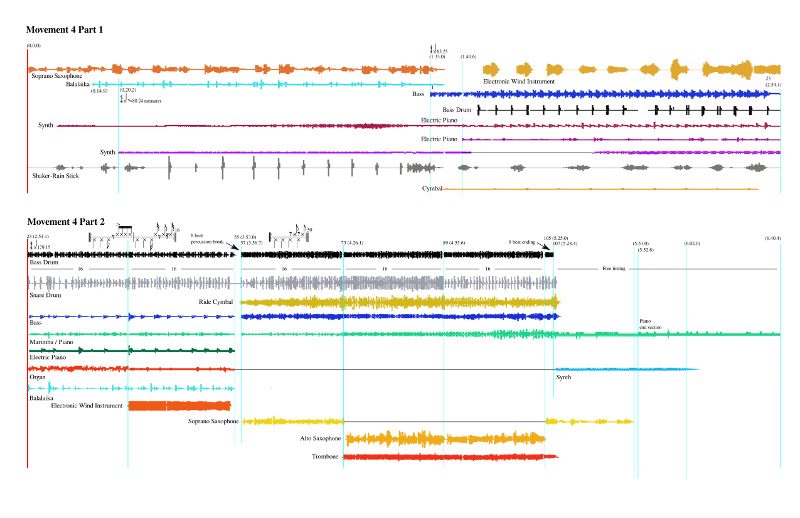 The Portable Document Experiment
Specifications free download
PDF file, 3 pages, print size - 11" x 17"
Music In Search of a Choreographer by Thomas Parker Williams is licensed under a reative Commons Attribution-NonCommercial-ShareAlike 4.0 International License
Music In Search of a Choreographer was created from several musical sketches composed and recorded from 2016 through 2021.
The first movement written in 4/4 is anchored with a fast tambourine steady beat. Keyboard marimba and a flute sound created with an electronic wind instrument establish a floating pattern that interacts with the bass drum and bass to support conga drums and bongo rhythms.
The second movement written in 5/4 was inspired by a Flamenco performance that I attended in early 2020. The piece starts out with rapid hand claps supported by an electronic wind instrument passage. The piece kicks into a syncopated 5/4 center section with saxophone solos and ends with a 3/4 section of hand claps and electronic wind instrument and synthesizer.
The third movement begins with a 16-bar string pattern that progresses to a snare drum hit. Two rhythm patterns, 24/8 and 7/8 are overlayed to created a complex interaction supported by keyboard parts. The piece ends with a another 16-bar string pattern.
The forth movement, written in 4/4, begins with a freely structured soprano saxophone solo over synthesizer and acoustic balalaika. The second slow section features electronic wind instrument, electric piano, bass and percussion effect to created a suspended mood. The piece then shifts into a fast 4/4 with a Celtic inspired 32-bar section, a 2-bar percussion break, a Dixieland inspired 16-bar section with soprano saxophone and a 32-bar section with alto saxophone and keyboard trombone. The piece ends with a suspended section with soprano saxophone, synthesizer and piano.
The chart on the PDF file is a graphical representation of the music with the major rhythmic elements specified and the instrument distribution shown in relative time. The graphics used to create this chart and video were taken from screen shots of the actual audio file displayed on the digital audio workstation. I invite dancers to use this work and offer feedback.
Composition, performance (all instruments) and recording, Thomas Parker Williams
copyright 2022 Thomas Parker Williams
The music may be heard by scanning the QR code on the printed PDF file or in the video above.