Portable Document Experiment - Forest Meditation, 2021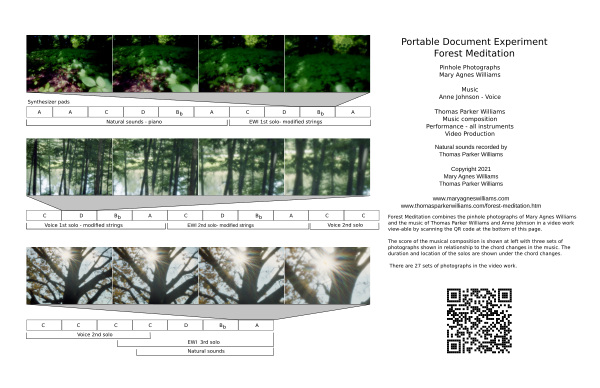 The Portable Document Experiment
Specifications free download
PDF file, print size - 11" x 17"

Pinhole Photographs - Mary Agnes Williams www.maryagneswilliams.com
Music - Anne Johnson - Voice
Thomas Parker Williams - Music composition, performance - all instruments, video Production, natural sounds recording
Forest Meditations by Mary Agnes Williams, Thomas Parker Williams, Anne Johnson is licensed under a Creative Commons Attribution-NonCommercial-NoDerivatives 4.0 International License.
Forest Meditation combines the pinhole photographs of Mary Agnes Williams and the music of Thomas Parker Williams and Anne Johnson in a video work.
The score of the musical composition is shown with three sets of photographs shown in relationship to the chord changes in the music. The duration and location of the solos are shown under the chord changes.
There are 27 sets of photographs in the video work.
The music may be heard by scanning the QR code on the printed PDF file or in the video above.