CATALOG NO. B85 -2017
Reason Belief Truth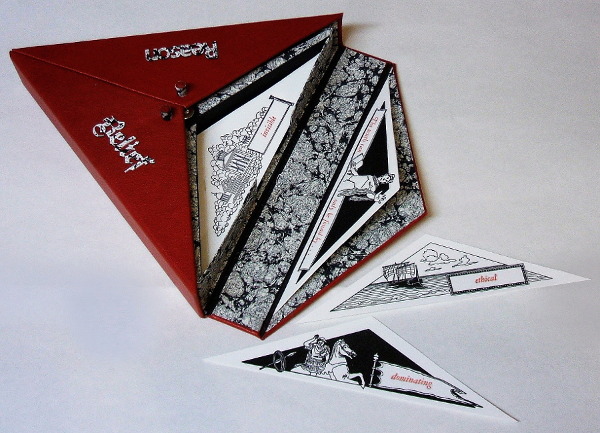 Marbled paper options
Specifications Edition of 12
Size closed, 9" each side, 2" deep
Binding - French split goat skin, laser-cut binders boards.
Wood onlays - laser cut, painted with ink and watercolor
Paper - Stonehenge White
Letterpress printing - hand-set type, polymer plates
Marbled paper - Alberto Valese, Venice
(Collectors may choose one of four marbled papers available)
FreeFall Laser - laser cutting
Thomas Parker Williams - concept, design, illustrations, printing, binding
Mary Agnes Williams - concept, hand-set text, printing
Collections
Permanent Collection -
The Walker Library of The History of Human Imagination
Reason Belief Truth was part of the Guild of Book Workers traveling exhibition "Formation" in 2018 and 2019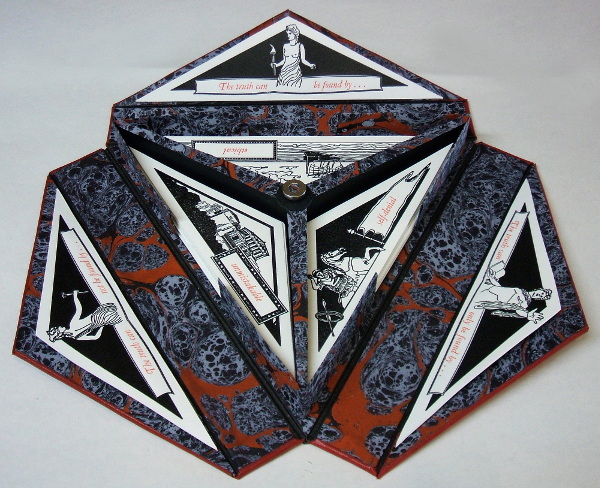 Book fully open

Reason Belief Truth is a book of philosophical investigations begun with three statements:
The truth can be found by . . .
The truth can not be found by . . .
The truth can only be found by . . .

On the rear of each statement is another statement:
Reason is the search for evidence to support a proposition
Belief is the reliance on a personal conviction
Truth is found only if what is found is true

These illustrated statements are printed on three flaps inside the cover of the custom case which opens to reveal 21 illustrated double-sided cards with terms that may be used to complete the investigations or initiate further debate.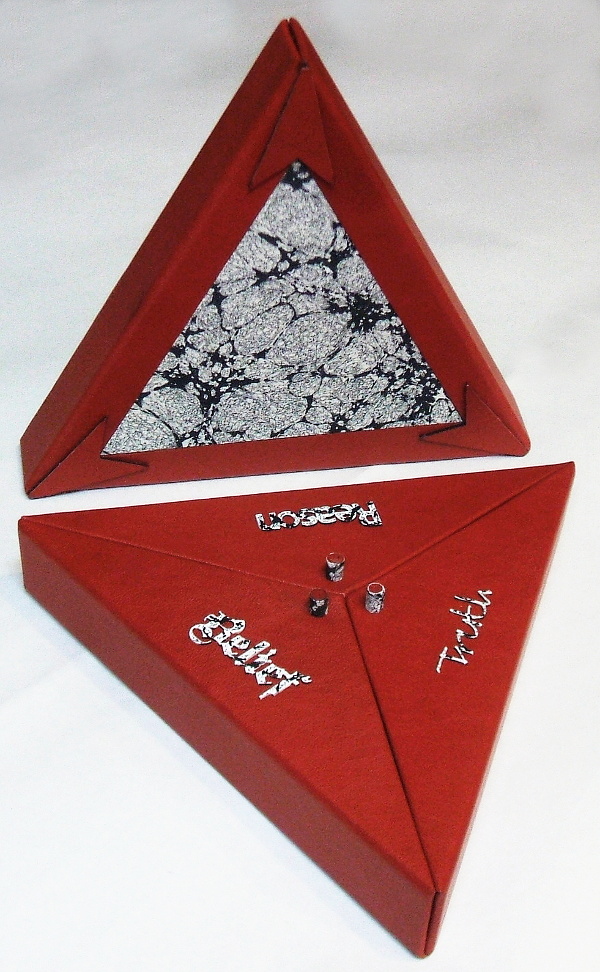 Book closed front and back views


All of the cards and card borders, all of the terms below

scientific/mystical
logical/theological
experimental/theoretical
deductive/intuitive
mathematical/hypothetical
destructive/constructive
ethical/corrupt
dominating/subservient
deceiving/trustworthy
selfish/altruistic
radical/conservative
invisible/unmistakable
social/hermetical
seeking/myopic
rapture/indifference
self denial/indulgence
miracles/matter
order/chaos
salvation/damnation
wisdom/ignorance
leadership/anarchy