CATALOG NO. B56 2013
Rhythm Grid
Book open

Specifications Edition of 25
Book - 6" x 6" x 1.25", 8 double-sided panels extending to 40"
Reduction linocut prints (18 colors total) with "L" type wire binding
Booklet with musical score and panel legends
Music CD composed, performed, and recorded by the artist.
Enclosed in a linocut-printed, Tyvek-bound case with clear acrylic window.
Collections
Copies are in private collections
Permanent collection -
George Mason University
University of Utah Marriot Library Special Collections
Rhythm Grid began as an idea for a musical composition featuring only percussion and flute. The idea centered around creating written drum parts using a grid of 16 numbers and simple mathematical formulas. The numbers 1,2,3 and 4 were arranged in a grid with the vertical columns designated a,b,c and d. The seven formulas, in the chart next to the grid, were used to create the seven percussion parts in the Electronic Drum Kit and the Acoustic Drum Set using the numerical values of the horizontal rows corresponding to the letters of the vertical columns. These formulas were used four times to create the four measures shown in the musical transcription.
The Electronic Drum Kit and the Acoustic Drum Set use the same rhythm pattern. The music, based on 4/4 time with eight beats per measure, was written out and first programmed into a drum synthesizer. Then the Acoustic Drum Set was played and recorded by microphones.
The four measures were arranged as shown on the Score to create a 64 bar sequence that was repeated four times for a 256 bar composition. Additional acoustic percussion, noted on the Score, and flute were improvised in real time over the full composition. This booklet contains a music CD of the complete composition performed and recorded by the artist.
The panels are a direct visual interpretation of the rhythm pattern of the measures with overprinted symbols for the improvised instruments. The eight double-sided panels are hinged with an "L" shaped wire binding method that allows the panels to be read as a codex or arranged in many other forms.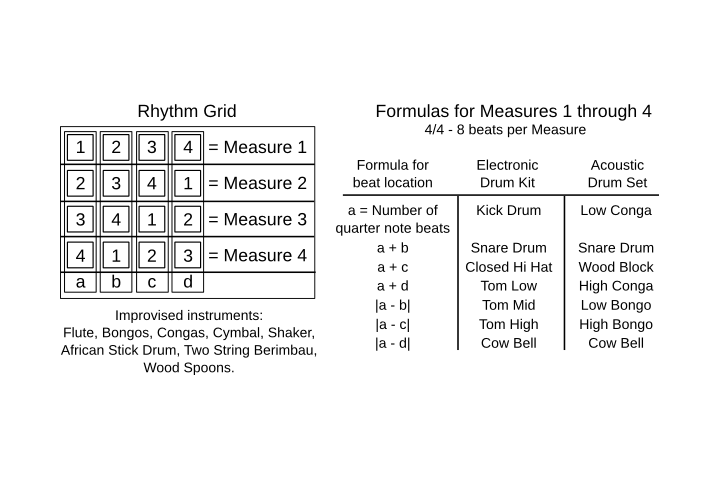 Grid chart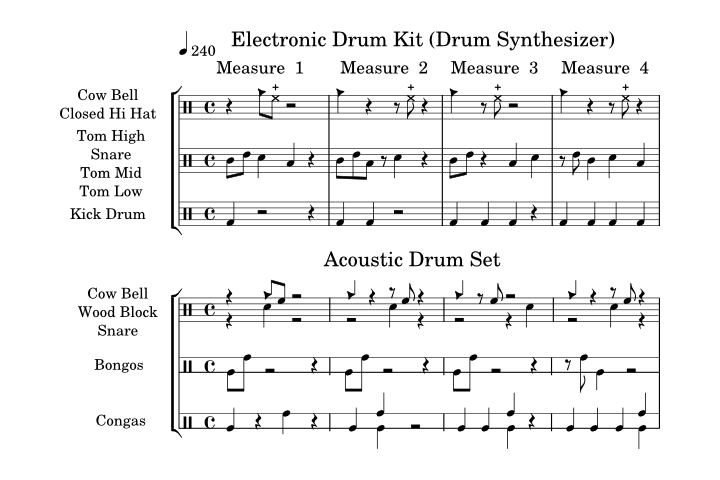 Music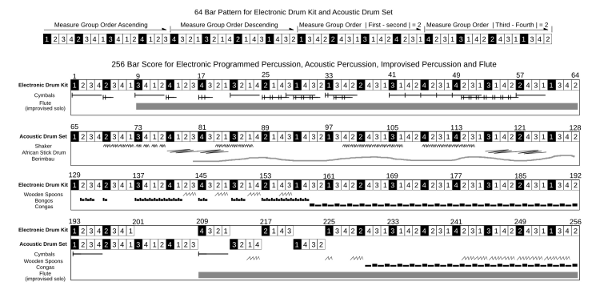 Score