CATALOG NO. B46 2012
Traveler No. 2, edition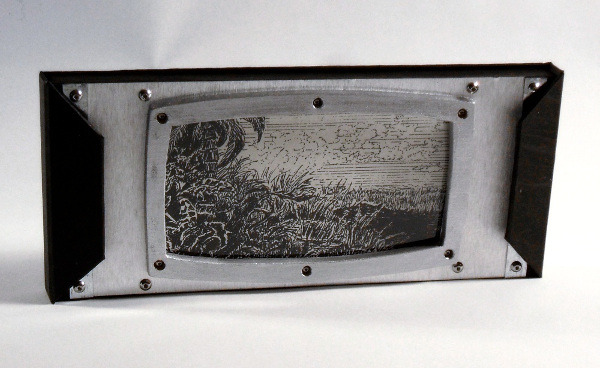 Specifications Edition of 5
5" x 11" x 1" closed, Digital print of original scroll ink drawings, 13 panels 3-1/2" x 136-1/2" Total Length
Wood, and aluminum bound with black Tyvek
Collections
MIT Rotch Library
University of Texas San Antonio Peace Library, Special Collections
Olin College of Engineering


The Travelers are book objects with unique drawings that are viewed through the windows on the top panels and are moved by sliding the unfolded drawing through the case. The viewer travels through imaginary landscapes as if in a moving vehicle, viewing an ever changing horizon

The journey starts in a desert oasis, moves over the edge of a canyon, moves down to the river and over a waterfall emerging over mountains and clouds and comes to rest on an artic ice shelf.

If desired, journeys can be viewed in reverse.

The continuous images for Travelers were drawn directly on the scrolls without preparatory studies or photographic reference.