CATALOG NO. B103-2021
Two Moons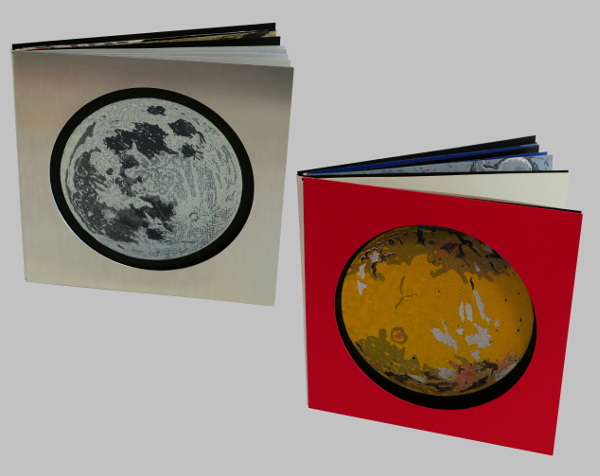 Two Moons, both covers

Two Moons is a 24-page artist book contrasting our serene moon, Earth's lunar companion, with the fiery, volcanic Io, one of the four moons of Jupiter discovered by Galileo in 1610. Its modified dos-a-dos binding contains a literal window between the two sides of the book, which serves as their shared back cover. The side of the book on Earth's moon is illustrated in cool blues, grays and black, and features seven impressionistic Japanese haiku and tanka that were written between the 7th and 18th centuries. The text on the Io side of the book focuses on the scientific data crucial to advancing knowledge of this distant body. The images, starting in tones of black and gray, continue to intensify in color, ultimately depicting the bright reds and yellows of Io's fiery landscape.

Earth's Moon, cover open


Earth's Moon, open


Io, cover open


Io, open

Specifications - Edition of 15
Book - 8" x 8" x .6" Neenah Classic Linen, 24 pages
Covers - Painted and unpainted aluminum with cutout and paper liner
Spine - Washi Linen
Illustrations - 14 original images hand printed with Dremel-engraved polycarbonate plates and oil-based pochoir mylar stencils;
Inks - Oil-based relief inks and dry pigments in burnt plate oil; 79 color changes
Text - Hand set in Janson, Janson Italic, and Park Avenue; polymer plates. Letterpress printed
Case - Clear polycarbonate
Thomas Parker Williams - Concept, design, illustrations, plates, printing, binding.
Mary Agnes Williams - Concept, design, hand-set text (selected Haiku; Io text written by MAW), printing.

Collections
Permanent collection -
Library of Congress Rare Book and Special Collections Division
Swarthmore College McCabe Library, Special Collections

Center divider panel, Earth's Moon


Center divider panel, Io

---